Working as a Team.
The attorneys at the Weston Law Firm work as a team to provide you with professional, focused and aggressive representation to protect your rights and advance your interests. 

Call us today at (843) 881-4995

to schedule a free consultation.
Top Rated.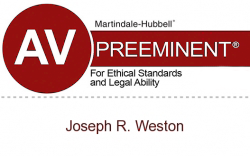 His fellow attorneys have rated Joseph Weston as AV Preeminent, which is the highest possible rating awarded through Martindale-Hubbell ®, the most respected rating organization in the legal community.  It takes many years of hard work and dedication to earn such a recognition from one's peers.  All of the attorneys at the Weston Law Firm work equally hard to earn the respect and trust of each of our clients.   Your solution begins now.  We're ready to help you achieve it.
Counselors   I  Advocates  I  Litigators